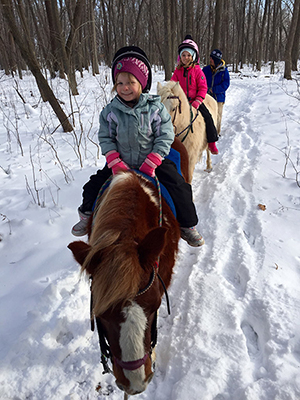 Woodloch Stable offers pony lessons for children ages 3-9! If you're looking for something more structured than just a pony ride, our Pony Lessons are a fun and inexpensive way to introduce young children to horses. Your child will work one-on-one with our instructor to learn basic grooming, leading, and riding skills on appropriately-sized ponies. Please email the Pony Lesson Program directly for more information and to schedule a lesson.
2017 Pony Lesson Pricing
40-Minute Private Lesson – $40
Semi-Private Lesson – $35
Pony Summer Camp (ages 3-10)
Thank you to everyone who joined us for our 2017 pony summer camp! We will post more info on 2018 camps soon.
Your child will love our pony summer day camp, which introduces children to all aspects of riding and caring for ponies! Camps run in 2-day sessions from 9:30am to 2:30pm. Campers are chaperoned by qualified instructors and counselors who will teach your child to safely catch, lead, groom, tack up, ride, and care for our gentle ponies.
Cost of each camp session (2 days) is $210, with a deposit of $150 to reserve your child's spot in camp. Deposits are due with registration forms.
Camps fill up fast, so book early! Email the Woodloch Pony Lesson program or call (651)429-1303 for more info and availability.